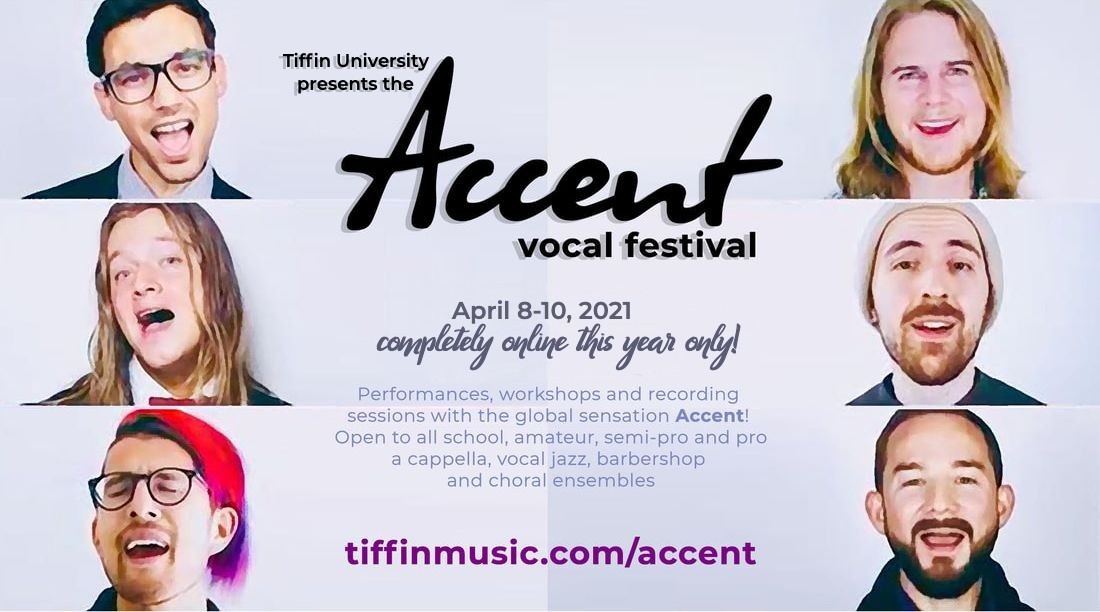 The internationally-acclaimed YouTube sensation

Accent

returns in a

virtual space

in collaboration with Tiffin University for the

Accent Vocal Festival (v. 2.5)

on

April 8-10, 2021

. That's three days of vocal harmony in a purely educational, noncompetitive, positive and supportive environment,

completely online

, and

at no cost to ensemble participants

!!

You and your a cappella, vocal jazz, barbershop or choral ensemble are invited to join Accent for in an exciting new online format, in which you're invited to submit a recorded performance and receive feedback and a live workshop specifically designed for your ensemble! These ensemble workshops will be scheduled per your availability at specific times on Thursday, Friday and Saturday. Ensemble workshops are limited.

You'll also get the opportunity to work with members of Accent through a variety of workshops about singing, performing, arranging, recording, and Accent's unique international multi-track video projects. And you'll meet and work with other exciting special guests!

You'll get to enjoy

and participate in

special one-time-only virtual performance by Accent!

While we can't wait until we can hold our festival in a face-to-face format once again, we are regardless excited to present the virtual version of the Accent Vocal Festival, building on this amazing group's unique professional skills and experiences, and on 20+ years ofvocal jazz and a cappella festivals in Tiffin. ​

Accent is... Danny from Canada, Simon from Sweden, Evan from the U.S.A., Jean-Baptiste from France, Andrew from Canada, and James from the U.K.


About Accent...

Originally brought together as an international a cappella YouTube project, Accent is a collaboration of musicians from around the world looking to bring you the best in a cappella and jazz -- both online and live. Nothing says "harmony" like coming together across international borders.

​Drawing inspiration from the vocal jazz pioneers who preceded them, Accent is forging a new path, melding jazz, pop and contemporary a cappella into one sound.

Watch Accent's amazing story below: ​​

Registration for the 2021 Accent Festival is now closed.

Thank you for your interest and we look forward to seeing you in 2022!

​